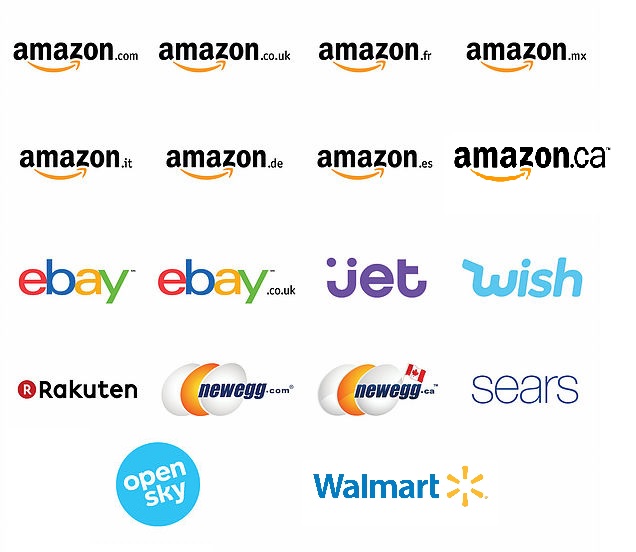 Fantastic (Beasts) Customers and Where to Find Them
Whether you are an established ecommerce brand or someone new to selling online, we all face the same challenge, where to find customers online. In J.K. Rowling's latest Wizarding World release of Fantastic Beasts and Where to Find Them, Newt Scamander (played by Eddie Redmayne) was on a global quest to discover and document an extraordinary assortment of magical creatures. While the movie is simply an adventure in fantasy and Newt's quest is certainly a difficult feat, strangely I feel as though I can empathize with him. We are both fearlessly searching for the whereabouts of mythical creatures, Fantastic Beasts and Customers. I have to assume that the magical creatures he is searching for are just as elusive as online customers are to online sellers.
Now I'm not saying that people are fantastic beasts, but really suggesting that finding online customers can feel like chasing down a dream. The hope is that someday I will magically uncover the source of all mythical creatures and know what to look for the next time. You can probably relate to this feeling. It was hard work to create and source products and build a website. The journey was long and arduous to drive traffic, but all internet traffic isn't created equal, is it? Sure is easy to spend money driving visitors, but what about the conversions? This is when the paradigm shift in thinking occurs. The goal isn't to find traffic; it is to find "Intent". I want to get my products in front of the most magical creature, the customer that has the Intent to Purchase.
So where are the customers, and how do you find them?
Would you believe me if I told you that there are people, all over the world, that are willing to buy your product right now? There are.
Then why aren't they buying your products? They can't find them where they are shopping.
There is a solution. I promise. I know because I helped to create the service, it's called Marketplace Valet.
But, I'm not going to tell you about that yet, I have some pro tips for you first. If you keep reading, I will give you some specific things that you could choose to do yourself to help in your quest for that elusive online customer.
Short bio, my name is Justin Boggs, and I sell products on the internet. Last year I sold my ecommerce site Zeeberry.com. Zeeberry generated over $14M in online sales serving over 350,000 customers from all over the world since 2009. My business partners, Will & Laura Land also sell products online. Since 2001, they have sold over $60M of their cell phone accessory brands Empire & MPERO on over 12,000,000 direct to consumer orders through online marketplaces.
The following are a few tips from us that you could use today…
Where to Find Them
The trick to finding them is actually making it easier for them to find you.
Winning Formula = The Right Content + Distribution
The Right Content- every page you have is like a digital sales person for you. Make sure to equip your sales people with the right message and features to maximize your chance of capturing the sale every time a potential customer sees that page. Now this strategy does apply to your website as a whole, but more specifically to your product detail pages.
Here is a real example of a winning product page from a product we sell: https://www.amazon.com/gp/product/B0093QER4C/ref=s9_acsd_hps_bw_c_x_1_w
Product Images– I mention Product Images first to emphasize the importance of great product photography. Every product detail page should have 5-6 images. Those images should be large and pixel perfect. At least 2 of the images should be of the product on a brilliant white background. Action shots or lifestyle photography is encouraged for images 3-6.
Title– your product titles should be unique, descriptive, and include the brand.
Description– Here is your chance to really help educate the customer about your product. Write clear and concise descriptions to help your customer understand what the product is and how they can use it. Every description needs to be unique and at least 100 words. Steer clear of abstract terminology. Distinguish key benefits by using bullet points.
Reviews– Convince your customers to give you product reviews. Reviews are a sure fire way to increase conversions. Reviews show new potential customers that other people have in fact purchased this product from you before and loved it. This is simply the fastest way to share trust with a new potential customer. In this example, you can see that over 10,500 customers have left reviews that average 4.2.
Distribution- list your products everywhere that customers shop. This means online marketplaces like Amazon.com, but also comparison shopping sites. People are spending their time on these sites because they have the "Intent to Purchase" either right now (Marketplace) or later (Shopping Comparison). Shopify has a nice blog post that outlines popular comparison shopping sites, check that out here (https://www.shopify.com/blog/7068398-10-best-comparison-shopping-engines-to-increase-ecommerce-sales)
Here is a list of popular marketplaces:
You need to follow the winning formula in that order, The Right Content and then Distribution. You are going to be extremely frustrated and disappointed if you don't listen to (and apply) this specific advice to your business. When people all over the world are searching for products, they are typing keywords into Google or Amazon like "Apple Screen Protector", especially if they have never heard of your brand before (Empire). So if your product pages don't describe your product in terms that customers are actually using to search for products like yours, then you are dead in the water. Customers with Intent to Purchase will never find your product page. Invest the time and energy into product pages. Value In = Value Out.
Additional Ecommerce Tips
Write long form original content for your blog. That means original 750+ word posts. I'll leave all of the on page technical SEO commentary to the professionals. Check out Moz.com and Backlinko.com which are some excellent resources.
Email Capture- People will come to your website for a litany of reasons. When they do come, get their email. Use some kind of Landing Page popup or an "Exit-Popup" because they are effective. This is all about building your house list. People may not be ready to buy now, but at least you will be able to cheaply market to them in the future.
PPC vs SEO These two strategies, while both necessary, cover reaching customers right now vs organically. My advice is to first invest in PPC for a given keyword before you invest in SEO for that keyword. The reason is that you literally have no idea whether a visitor is going to convert off of a given keyword until you have actually driven traffic to your product pages. So, spend a little money to find out if the keyword will in fact convert traffic into paying customers before spending your time and money in the SEO trenches trying to jockey for keyword ranking on Google.
So that probably just opened up a whole can of worms for you. Perhaps the thought of trying to fix your product pages, or get your products on all these marketplaces sounds time consuming, expensive, or downright painful. I hear you, I do. I understand your pain.
Or maybe you already knew everything I talked about and more. Perhaps you have already bought into the same Winning Formula, and you would just like a way to get even more distribution for your products?
Fantastic Customers… the Marketplace Valet Solution
Now if you are still with me, I want to tell you a story about an adventure, my adventure. Earlier this year, I was considering what I was going to next. I'm an ecommerce guy, so I knew that whatever was about to happen next would involve selling online. So I called my buddy Will, and at his invitation, came by the warehouse to check out his setup.
What I witnessed was the perfect infrastructure for an ecommerce guy like me. Will and Laura had already solved all of the mundane back office and logistics operations for an ecommerce business.
They have a warehouse
They have employees
They have the lowest shipping rates I had ever seen. Negotiated shipping rates by the ounce, for every country in the World
They have marketplace accounts in countries all over the World, accounts that I could never get
They have inventory management software
They have listing management software that automatically syncs and updates pricing and inventories across all marketplaces
They could handle marketplace order fulfillment
They could handle ecommerce order fulfillment
I was so impressed. I thought to myself, all I really need is a product to sell, and I could literally just fit right into their existing infrastructure. The logistics of managing a successful ecommerce operation are usually the most critical aspect for any online business. You quickly realize that ecommerce fulfillment is so time consuming and costly between rent, packaging, prepping orders, shipping, customer service, duties & VAT, etc. Everybody wants to build a brand and sell products online, but what happens if you are a success? Often I find so many small operations that have the owner/ product designer trying to manage all of these tasks themselves. They are taking their valuable focus away from marketing, advertising, sales, and design, in order to do simple warehouse labor. So from my experience with Zeeberry, I intimately knew how valuable it is to have the entire ecommerce fulfillment handled by a third party fulfillment company. That is when I was able to get my valuable time back to focus on growing my business even more.
So in the late summer 2016, I pitched Will and Laura an idea about leveraging their existing infrastructure to list and sell products that I would buy and ship to their warehouse.
Here is what happened.
Remember how I told you that there are customers all over the World that are ready to buy your products…
By late June, my first order of products arrived at the warehouse. This is a link to a google doc that shows the number of orders, by country, since June 28th. https://drive.google.com/file/d/0ByGgrpvORHjOcFhYX09aY3VuZms/view?usp=sharing
On August 5th, we knew something big was happening, and that was the day we had several pallets of products arrive at the warehouse. The rest of the year has been a race to add as many products as fast as possible. But most importantly, I want to emphasize some key points about my actual sales data. From that pdf, you can see that we are getting sales and shipping orders to customers all over the world. There are Fantastic Customers in every country, that are waiting to buy a product like yours. Secondly, I want to point out that while Amazon.com is a wonderful sales (Distribution) channel for my products, it only represents 28% of my orders. That means that we are generating a whopping 72% of orders from other marketplaces like Foreign Amazon accounts, Walmart.com, Jet.com, etc.
I don't even have a ecommerce website setup yet. All of the sales are through Marketplace Valet.
First sale was June 28th 2016. Now, just 6 months later, for the past 30 days I had just over 14,500 orders generating $187,000 in revenue.
Something magical is happening. Just like our storied hero Newt from Fantastic Beasts and Where to Find Them, we have discovered some new kind of mythical creature. We realized that there was a much bigger story than just my success. This process can be replicated for anybody. So, Marketplace Valet was born.
About Marketplace Valet
Since 2003, our company has shipped over 12,000,000 direct to consumer orders. We have nearly 400,000 reviews on Amazon.com alone. Earlier this year we launched Marketplace Valet to help other ecommerce businesses, brands, and product companies take advantage of our state of the art warehouse, premier marketplace accounts, and Worldwide logistics capabilities.
When you sign up with Marketplace Valet, our international marketing strategies include listing your products to all of our available marketplace accounts such as: Amazon.com, Walmart.com, Jet.com, Ebay.com, Amazon.co.uk, Rakuten.com, Amazon.de, Ebay.co.uk, Amazon.fr, Amazon.it, Opensky.com, Amazon.ca, Amazon.mx, Amazon.es, Newegg.com, Sears.com, and more. Additionally, we handle all of the pick & pack, shipping, and customer service as well.
By 2013 we were the 24th largest Amazon Seller in the World. This was just with our own brands of cell phone accessories (Empire, MPERO); so imagine what we could do with your products. We are currently working with clients selling everything from Makeup, Jewelry, and Weight Lifting Equipment to Household consumables.
For more information about Marketplace Valet and how you can get started, please visit our website at www.marketplacevalet.com
Want to get connected now? Feel free to contact justin@marketplacevalet.com
Justin W Boggs
CMO- Marketplace Valet
Office: 951-687-1140 x112